By: Will Harper, Staff Writer
A problem that plagues all Wofford freshmen is the conundrum of what to do with their Terrier Bucks. Most do not know what they can use these glorious school credits for, and there are a lot more options than one might think.
On campus, you can use your Terrier Bucks at two coffee shops, located in Milliken as well as Campus Life. The Campus Life building hosts Terrier Grounds, a coffee shop serving Starbucks products. The Acorn Café in Milliken serves up Little River Roasting coffee products, as well as scones and desserts from Cakehead bakery.
There are a few restaurants around town that accept your Terrier money. Lime Leaf is a Thai restaurant downtown located next to Wild Wings. Lime Leaf was voted the best Thai restaurant by The Beat and has been recognized through several major events in and around Hub City, including Spring Fling. Fan favorites here include the duck and fried rice served in a pineapple.
Cribb's is a restaurant that specializes in Southern cuisine, located in the downtown grain district. Everything on the Cribb's menu is grown or raised in-state. Here you will find a wide variety of sandwiches, salads, hamburgers and wraps, as well as the fan-favorite pimento cheese balls. Your Terrier Bucks will even cover milkshakes here!
Another option is the Monarch Café and Fresh Food Store right off campus. The café has small plates and healthy options, while the food store features produce, dairy, meats and vegetables from local and regional farmers. Terrier Bucks works in both areas.
Finally, you can order Papa John's with your Terrier Bucks, something that will come in handy during late night study sessions. Your pizza will be delivered straight to your dorm room door, or you can pick it up on location. Using your Terrier Bucks for this delicious experience is as easy
as calling in your order reciting your Wofford number over the phone.
With all the delicious restaurants Spartanburg has to offer, it can be tough to know where to start. With this list in mind, you can save some of your hard earned money and opt for using your Terrier Bucks instead.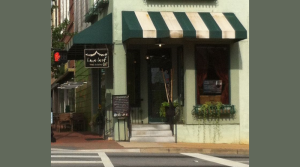 Story continues below advertisement