By: James Barkley, staff writer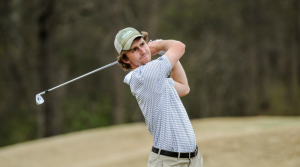 A new age of Wofford golf began last fall when Alex Hamilton took over as head men's golf coach, following 13 seasons with Vic Lipscomb at the helm. Hamilton was welcomed to the program on May 10, 2017. When asked about this new opportunity, Hamilton seemed excited to be a part of a program such as Wofford's.
"Wofford has a great tradition for men's golf…to me the program speaks for itself, as far as it's accomplished." Hamilton brings with him an experienced resume. Before Wofford he spent a season as head coach at South Alabama and three seasons as an assistant coach at the University of South Carolina. "I'm just hoping to continue the tradition of Wofford golf," Hamilton said.
Story continues below advertisement
Looking back to last year, the Terriers lost some significant seniors who played impactful roles on the team. Unfortunately, losing these seniors seemed to put this season's squad in a position where they had to re-find themselves.
"In the fall we did not play our best…we struggled with our identity a bit," said Hamilton. This year's squad is still an experienced one, however, as six seniors and three juniors are on the 14-man roster. These upperclassmen will be expected to provide any advice or help they can pass to the younger players on the team. "
One thing that I think is critical to a team's success is their upperclassmen leadership," said Hamilton. "It's things like understanding what the benchmark for success is around here, understanding what it takes to play well, those are things that we expect our upperclassmen to teach."
The four freshmen on the roster will look to learn what they can from these upperclassmen as the spring season progresses. With the fall season behind them, the men's golf team began their spring season with the Wexford Intercollegiate. The Terriers finished the 54-hole tournament with a 12th place finish out of 18 teams. When reflecting on his team's performance, Hamilton stated, "We played very well for the first two days and then the next day, in some very tough conditions, we got a little impatient."
Despite the inconvenient conditions, Wofford got some positive results from one of their younger players. Leading Wofford in this tournament was freshman Nick Willis, who shot a total score of 221 and tied for 18th.
"Overall it was a very positive start to the spring," said Hamilton. "We're going to continue to evaluate what we can do to have our most competitive line-up and hopefully continue to get better throughout the spring."
It's a long season and Wofford will have plenty of time to work out any kinks that they might have before arriving at the Southern Conference Championship. Including the Wexford Intercollegiate, the Terriers compete in six tournaments throughout the spring season. The SoCon tournament begins Sunday, April 22, 2018 and goes until Tuesday, April 24, 2018.